Pilates

BeneFITs Every-Body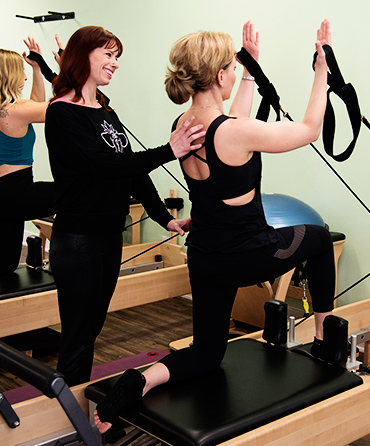 Everybody can benefit from the regular practice of Pilates. Our current lifestyles of hunching over our steering wheels and computer screens have created postural imbalances that lead to avoidable chronic injuries. Because the foundation of Pilates was rooted in physical therapy, it is the safest form of exercise for those with these common injuries.
Additionally the goal of Pilates is not necessarily to have a perfect body but the most efficiently functioning body. By strengthening weak muscles, stretching tight muscles, building core strength and correcting posture, Pilates can enhance the movement of the body. Regardless of your level of fitness or your personal goals, Pilates will provide a positive effect on your life.
"PHYSICAL FITNESS IS THE FIRST REQUISITE OF HAPPINESS"
-Joseph Pilates
According to Joseph Pilates, "the mind, when housed within a healthful body, possesses a glorious sense of power." We, at BeneFIT Body in Woodland Hills, truly believe that physical fitness is the most important aspect of life and that Pilates is the most effective and safe way of achieving it.
Attaining a healthy body and mind is a journey, not a destination. We promote the constant evolution of self; physically, mentally and emotionally. We aim to provide a fun and welcoming environment where you can challenge your body and fulfill your mind. At our studio, Pilates brings together a community of like-minded individuals who are passionate about becoming their best and healthiest selves.
Our team prides itself on evolving with our clients, constantly changing the way we teach our classes to provide a variety so that every class is its own unique experience. All of our instructors are highly trained with over 500 hours of experience in all equipment and will be able to help you get the best of any class you attend. In every class, there is an opportunity to work on the Pilates Reformer, EXO Chair in addition to the TRX, Ballet Barre, BOSU ball and weights. This challenges the mind and body resulting in continued progress and better results.
Nikkita's Journey
Nikkita Weerasinghe's journey to Pilates unfolded organically. All her life, she struggled with attaining a healthy body and happy mind.
She found Pilates while looking for a way to escape the stresses of Nursing School at SDSU. The Reformer quickly became her happy place. She submersed herself in the studio by working part-time as a manager and later got her certification to instruct.
Upon graduating and becoming an RN, she continued to grow in her personal and professional Pilates practice.
Nikkita soon realized she loved teaching pilates for the same reason she had always wanted to become a nurse; it was a powerful way to heal the human body, not only physically but mentally.
She appreciated how Pilates helped her evolve into a healthier and happier version of herself and wanted to share that with as many people as possible.
She found that her passion for teaching Pilates was more than just a hobby or a part-time job; it was her dharma – her life's purpose.